I Love Downwinding

// Session
13 April 2012

By: Andrew Cassidy
Location: Pittwater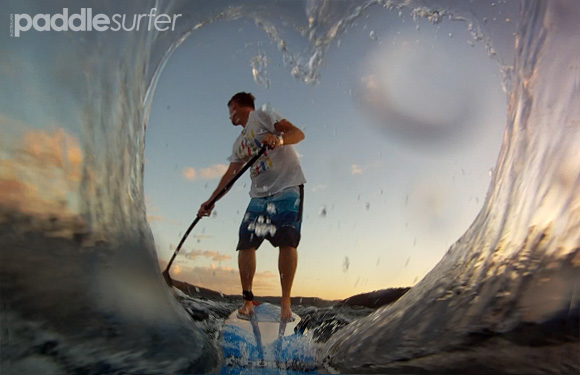 I love downwinding. Once upon a time I didn't. I thought it was a bit lame. Coming from a surfing background, I always figured it looked like too much hard work for not enough gain - why would anybody go through all that just to ride a half foot piece of onshore chop? That's the type of crap I avoided like the plague ... as a surfer.

Well, being out in the middle of the ocean or a large body of water on a good quality race SUP and traveling at speed with just nature's elements powering your journey is really something else. Something that every surfer should try.

I'd started work early, not because I knew there would be a cranking wind blowing that arvo but because I had some early deadlines that needed to be met. As it turned out those early deadlines and the consequential early rise from my slumber were an absolute blessing in disguise. A typical lunchtime Facebook check revealed a few of the boys were about to head out to get a piece of the 30 knot southerly that was currently buffeting the eastern seaboard. A turn of my head to the trees outside revealed their observations of a very strong wind were indeed correct. I wanted a piece of that too.

A few text messages later had Chapo frothing to do the run with me and my beautiful wife organised to leave the shopping mall early to come and collect us from Palm Beach when we had finished. The early start was about to pay dividends - an early finish with enough daylight left for some fun.

Chapo and I arrived at the Sea Scout hall - one of our regular starting points for a strong southerly run. It was only a matter of seconds before we were wading through the low tide shallows on our way out to the bumps. It was a gentle start under the protection of the Bayview hill as the setting sun shed a beautiful golden glow over everything in its line of sight. What a lovely way to finish a hard day's work.

The sun disappearing behind the high peaks of the national park behind Towler's Bay signaled our transition from the leisure zone to the action zone. Now dead smack in the middle of Pittwater with the full force of the howling southerly bearing down on us, we were about to have some fun.

I was on a brand new DEEP Oceanboards 12'6" Carbon Innegra and couldn't have chosen a better board for the conditions. The DEEP's super light 9.7kg made it very agile in paddling over the top of small bumps in order to get on the bigger runners. It's got extreme acceleration on tap with just a few short, sharp stokes of the paddle. And I was glad I decided on the 12'6" over her big sister (the 14 footer) as the short period chop of the bay was much more conducive to a shorter waterline. The 12'6" fitted into the troughs beautifully and just loved staying in there for what seemed like an eternity. Her 28" of width had me wobbling a bit but I managed to do the full seven clicks without falling once and there were some pretty washy conditions to contend with too.

The small stretch of our destination beach held the last rays of the day due to the valley to the west of Coaster's Retreat. Everything before and after was encroaching dusk leaving a very pleasant landscape to aim for. A bit like the gold at the end of the rainbow.

We hit the beach at Sandy Point after a dead straight run of exact downwind conditions. We couldn't wipe the smiles off our faces. An afternoon we will replay in our minds for a long time. Woo hoo. I love downwinding.